CNC Turned Components Manufacturers in India
CNC turned components are our core competence and main product range. With highly sophisticated and advanced CNC machines, skilled workers and perfect manufacturing process, we manufacture CNC turned parts or CNC turned components in Mumbai, Pune, Nashik &amp Jamnagar, India that are best in quality and usability.
We have invested in cutting-edge turning machines and precision tools that ensure great perfection in products we manufacture. Also, we follow high quality standards in our rich manufacturing unit. Each product undergoes a strict quality check to identify and eliminate any loopholes. All this process is executed to ensure the products you get are best in quality and usability.
Ganesh Precision is one of the leading CNC turned components manufacturers because we take care of the demand and expectations of our valued customers. We offer wide range of CNC turned parts and we are open to manufacture custom CNC turned parts as per your unique requirements. Also, all the products are created in a way to offer highest level of usability and remain affordable to you.
If you are looking to buy CNC Turned parts or CNC turned components in India, we have the right products for you. You can buy high quality components made of stainless steel, aluminum, carbon steel and copper alloy with us. Do let us know about your requirements, and we shall find the best products in our warehouse. Alternatively, do let us know what you need and we will get it manufactured for you.
We offer CNC Turned Components in different specifications as per the choice of our valuable clients. Feel free to Contact Us for further information.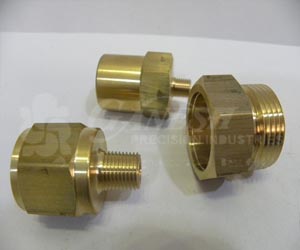 Ganesh Precision Offers CNC Turned Parts which are used in various sector
Classification:
Automobile Sector.
Sensor Industries.
Instrumentation Sector.
Electrical Sector.
Electronic Sector.
Tele Communication Sector.
Moulding Industries.
Valves and Water Industries.
Lighting Systems.
Control Systems.
Central heating Application..
Inspection Facilities:
Vernier Caliper.
Micrometer.
Dial Caliper.
Plug Gauge(GO NOGO).
Ring Gauge(GO NOGO).
Pin Gauge.
Height Gauge.
Raw Material:
Free Cutting Brass IS-319 Types I or BS 249 Types I.
Any Special Non Ferrous Material Grade.
Brass as per ROHS Directive.
EN1A-Leaded.
SS – 303.
SS – 304 L.
Threading:
ISO Metric (MM Threads).
BA, BSW (INCHES), UNC, UNF, BSP, NPT, BSPT.
Any as per customer specification.
Size:
Circumference Diameter 1mm to 200mm with length of any size.
Apart from standard Brass Temperature Sensor parts, we develop customize Brass Temperature Sensor parts as per technical drawing or other relevant data.
Finish:
Natural.
Nickle Plated.
Silver Plated.
Tin Plated.
As per customer specification.